If you have an unusual or challenging packaging problem, it's likely that Senzani can come up with a solution.
For over 60 years Senzani has been manufacturing packaging machinery. They are market leaders in primary and secondary packaging, from end of line solutions to palletising. They are innovators and pride themselves on their R&D capabilities as well as their turnkey solutions.
It wouldn't surprise you to hear that a company which was established in Italy in 1953, should be renowned for its automated packaging systems for pasta and coffee, after all these quintessentially Italian. But what you may not know is that Senzani has installed over 2000 machines worldwide. Partnering with companies in the food, detergent and tobacco industries. They have more than 40 patents registered worldwide, which illustrates their commitment to innovation and development.
We are shining a light on what we consider to be some of the more innovative machines from Senzani.
WA12 for Coffee Capsules
The WA12, a wrap-around monobloc case packer, has been specifically engineered for the packaging of cartons containing coffee capsules. Designed to be integrated into a complete system, capable of handling the entire process, from cartoning to palletizing, this machinery is extremely flexible and versatile, both in terms of typologies of product to package (doypack, pouches, trays, cartons, etc.), and of quick and easy size change. For these reasons, the WA12 can meet the needs of a growing market such as the one of coffee capsules, where Senzani Brevetti is currently a leader, thanks to their long-term experience and collaborations with multinational and leading companies all over the world.

MACM 25 for Stock Cubes
The MACM 25 has a special application for the packaging of stock cubes with out-of-standard size (cubic). The dedicated automation system has been designed and realised for handling this specific type of product. It automates the forming and sealing of flat blanks, guiding the product through all the phases of the cartoning process; this feature, together with the high performance (1,800 cubes per minute at input) and the compact layout, make the MACM 25 the perfect solution to be connected to any primary packaging machinery for stock cubes currently on the market.
The Kilian KTS is suitable for pressing various table forms like stock cubes. With a robust design and high reliability for processing hard-to-handle products.

VCM Vertical Cartoner
Senzani VCMA cartoners series works in index motion. This series is the solution for vertical cartoning of solid products (pre-filled bags, coffee capsules, bottles), granulated products (seeds, detergent powder) or individually packed products (candies, chocolates, bars), at reduced working speed and with single or double filling station.

CASE STUDY: Senzani works together with Cellini to design a customised production line for random and ordered capsules packaging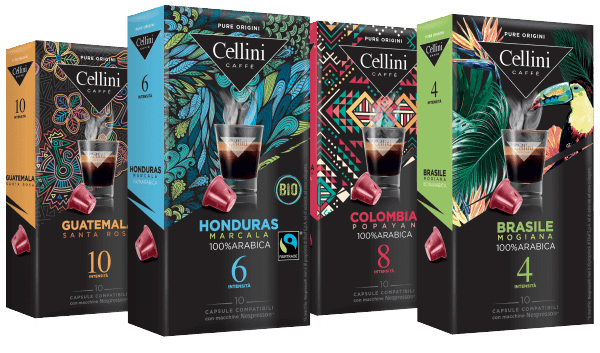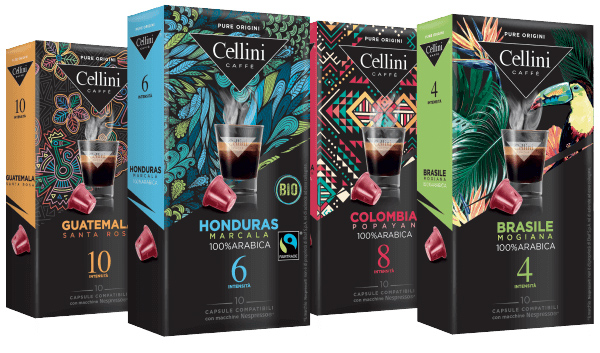 Senzani designed and installed two cartoning machines:
a first vertical cartoner, packing Dolcegusto compatible capsules at a speed of around 35 cartons per minute for the 16 capsules format (also treating the 10 capsules format)
a second cartoner to pack Nespresso compatible capsules at a speed of around 600 per minute (that is to say 60 cartons of 10 pcs each), in this case the products are manipulated by a robot to compose the carton configuration.
Senzani completed the line with a wrap-around case packer. The machine composes a stack of cartons according to the Customer's demand and wraps the grouping in a box, which can turn into a shelf-ready tray. This solution becomes an important tool in instore marketing strategy.