Advanced Tablet Coating Process Technology
Romaco have had over 100 years of experience in the pharmaceutical industry, with technology to cover the whole process chain. Romaco Tecpharm's tablet coating machinery uses perforated pan technology to coat tablets and pellets, suitable for both aqueous and organic coatings. It automatically adjusts coating, air flow and spray nozzle distance for higher efficiency, saving coating material and optimising processing time.
The machinery was fully designed, developed and built in Europe, meeting safety standards (GMP, EHEDG and FDA validated). They offer a turnkey installation service – start-up, qualification, training and production support.
With its patented smart Optima coater, Romaco can offer variable batch sizes with fully automatic adjustment between 10% and 100% in a single machine. This means if you have a 300l volume coater, for example, you can coat batch sizes from 30l up to 300l, without any intervention by the operator.
The system fully automatically controls  the coating process from the beginning to the end of the batch, enabling fully identical quality from batch to batch.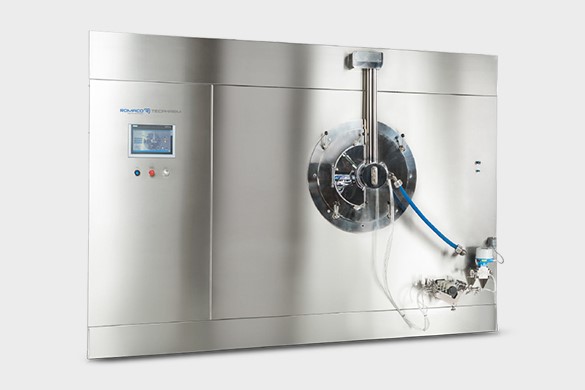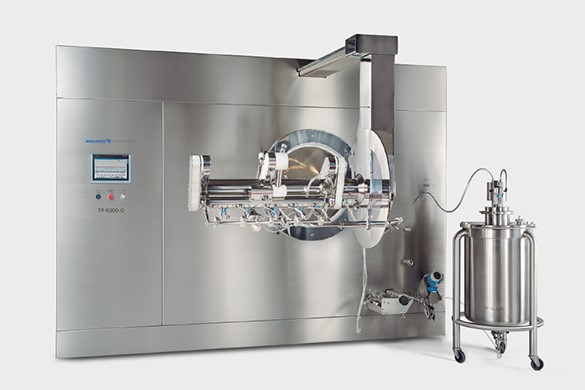 Highlights of Romaco Tecpharm Tablet Coating Machinery
There are three machines in the Tecpharm series: Lab Tablet Coater for small batches or product development, Tecpharm Tablet Coater – the high technology tablet coating machinery, and Tablet Coater Optima which offers variable batch adjustment.
An even coating on all tablets, automatically
Different models for different speed and volume requirements
Standard equipment operates with drum sizes from lab to industrial batches
Economic efficiency, reliability and batch flexibility