A tablet press is a mechanical device that will compress a powder into a tablet in a uniform way so to retain the exact same weight and size for each tablet.
To form a tablet, the powder material must be pressed into a cavity with two punches and a die, the punches are then pressed together with great force to fuse the material together.
The exact fill depth of the punch can be precisely adjusted to control the amount of powder to be included in each tablet. Tablet tooling design is critical as it can influence the size, shape, embossing, and other critical factors that are then used for identification.
Most tablet presses take the form of a rotating turret that will hold a number of punches. Punches and dies are usually custom made for each application.
Most tablet presses are suitable for a large number of applications within the pharmaceutical, nutraceutical and veterinarian industries.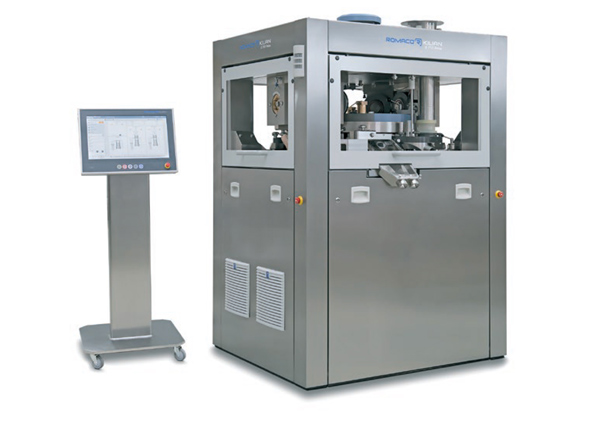 State-of-the-art high speed tablet presses
The benefits of Romaco's tablet pressing technology.
Several different models for different speed requirements
Modular architecture permits customised solutions
Flexible handling of numerous container sizes and dosing volumes
Compact design saves space and money on the production floor
High level of automation assures absolutely reliable processes